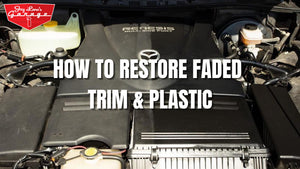 How to Restore Faded Trim, Plastic & Vinyl
What is the best way to restore faded trim, vinyl or rubber?
In this weeks blog, we are going to show how easy it is to do and can be done on your car, motorcycle, truck or boat.
Most modern cars these days have black or grey plastic on different areas such as the bumpers, bonnets, rear view mirrors and more. These fade over time from sun and other weather elements because they are not protected like paint etc. 
When cars are cleaned, these areas or plastic or trim are often overlooked, but they play a very critical role in the overall appearance of a car.
How do you clean plastic and trim?
During your next and future washes, use an All Purpose Cleaner with a soft brush to remove any contaminants as the surface is porous. The brush will get into the pores and remove any dirt which your wash mitt might miss.
How do you restore faded black plastic or trim?
In the past, you would normally use a silicone based product on plastic, it would look great initially but long term, it would assist in speeding up the fading process.
We developed our Tire & Trim Care to produce a deep, long-lasting shine on rubber, vinyl and plastic trim. The water-based formulation provides anti-static properties that help repel dust and grime, while UV-protection helps shield the harmful effects of the sun. I also protects against surface discolouration and fading.
It finishes dry to the touch and will not sling or run off the surface. Water-repelling properties help this dressing last through the toughest conditions & even multiple washes! 
How do you apply Tire & Trim Care?
1. Thoroughly clean the surface to be dressed and allow to dry.
2. Apply a small amount of dressing to a sponge or applicator pad.
3. Spread the dressing onto the surface in a thin, even layer.
4. Buff off any excess with a clean microfiber towel.
5. Allow 5 - 10 minutes for dressing to cure 
Watch the video below to learn how.
Our Tire & Trim Care can provide months of durable protection without applying other layers. 
If you have any further questions about this product or any others, send us an email at info@jaylenosgarage.com.au
---