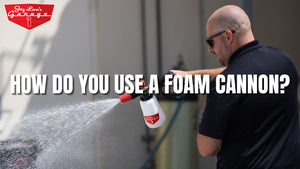 How To Wash Your Car With A Snow Foam Cannon
What is a foam cannon and how do you wash your car, motorbike, truck or boat with one?
We want to help make the task of washing your vehicle fun, easier and more importantly, make it look great.
Regular washing is the best way to maintain the appearance of your car, motorbike, truck or boat, some people prefer use a bucket and sponge or use an automatic wash. 
Before you think about washing your car, have a read of this blog about using Foam Cannons, what they are, the benefits and, how to use them. 
What is a Foam Cannon? 
A Foam Cannon is an attachment that connects to your pressure washer or garden hose when mixed with a good wash soap, it produces a thick layer of foam that breaks down any grime or dirt on the exterior of your vehicle. 
Foam cannons have become extremely popular these days, especially with professional detailers and car enthusiasts who would use them with each car wash.
What are the benefits of using one to wash a car?
They are commonly used a pre-wash to remove dirt, grime and other contaminants that bond to your paint before using a microfibre mitt or sponge.
It adds a layer of lubrication, making the process of washing your car easier and quicker.
More importantly, it provides a scratch-free process that will dramatically reduce swirl marks and scratches on the exterior of your vehicle.
What do you need?
1. Snow Foam Wash Soap:
You'll need a wash soap that is specifically designed to be used with Foam Cannons so it creates a nice and thick layer of foam. Our Vehicle Wash or Wash & Wax have both been designed to be used with Foam Cannons, both are PH neutral formula is gentle on paint and it provides a perfect layer of foam to break down dirt and grime.
2. A Pressure Washer: 
You'll need to buy a good pressure washer if you don't already have one. There are many great brands on the market with different models to suit your budget. We've tried many and currently using Husqvarna pressure washers, which we recommend. (we don't have any affiliation with the brand, its just a great product)
3. Foam Cannon:
Whilst we don't currently sell any Foam Cannons (we might soon), there are lots of great options on the market which you can use and different budgets. We would recommend paying a bit more and getting a well-known brand, as they will perform better and last longer. Also make sure you get the right attachment with the foam cannon to connect to the pressure washer, if it doesn't come with one when you purchase it, you can find the right attachment online very easily. 
Foam Cannon Wash Steps:
1. Make sure your paint is cool to touch or wash in a shaded area if possible. We recommend washing early in the morning or late in the afternoon so your not washing in direct sunlight.
2. Set up your pressure washer at the front of your car, connect the water hose and turn it on at the tap. 
3. Fill up your foam cannon with water, we recommend a 9:1 ratio of water with a wash soap to produce a solid layer of foam. Most foam cannons are 1 litre, so fill up to 90% and then put 10% of the wash soap on. Make sure you give it a shake to thoroughly mix the wash soap and water.
4. It's foam time! Press the trigger of your pressure washer, you'll soon see the foam spray, most cannons allow you to adjust the jet and level or water. 
5. Start at the bottom and work your way to the top, this is so the dirtiest parts of the car have a better chance of dirt and grime removal. Make sure the whole car is covered.
6. Let the foam sit on the paint for about 3-5 minutes, you will see the foam slowly work its way down the paint, removing any dirt and grime.
7. Rinse time! Take off the foam cannon and put on the rinse nozzle/attachment, rinse off the car starting at the top and work your way down. 
8. Check the paint to see if there is any dirt or grime leftover, if there is it will need a hand wash with a mitt and bucket. (We recommend using the 2-bucket wash method with any hand wash)
9. Drying time! Now that your vehicle has been rinsed off, it's time to dry it off. We recommend using a drying towel and drying aid. A good drying towel, combined with a drying aid will dry your car quickly, won't scratch your paint, leaving behind a robust layer of paint sealant and amazing shine!
We hope this blog has provided some insight and tips on using a foam cannon, you will really see some results with using these tips from now on.
As always, if you have any questions about car care or products from our range, send us an email at info@jaylenosgarage.com.au and we'll be glad to assist. 
Regards
JLG Australia Team
---