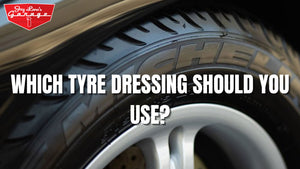 Which Tyre Dressing Is Best To Use?
Looking for the best tyre shine for your pride and joy?
After spending hours detailing your car, having faded tyres will spoil all of your hard work. 
Applying a good tyre dressing will totally change the look of your car, and it will only take a few minutes. 
What is a tyre dressing?
A tyre dressing is designed to make your tyre walls black, you can either go for a wet/gloss look or a factory/natural look. 
Not sure which one to chose?
If you have a modern/performance car with low profile tyres, we recommend using a wet/gloss look dressing.  
If you have an older/vintage car with a larger wall, we recommend using one with a natural/factory finish.
In our product range, we have two specific tyre dressings, Tire and Trim Care and Tire Shine. They do exactly what their names say, as do all of our products. 
Tire & Trim Care is scientifically engineered to produce a deep, long-lasting factory/natural look which can be used on rubber, vinyl and plastic trim.
Tire Shine is a sprayable, water-based dressing that provides a high gloss/wet finish to all rubber & plastic surfaces.
How do you apply them?
Follow these simples instructions for both products. 
Tire & Trim Care:
1. Thoroughly clean the surface to be dressed and allow to dry.
2. Apply a small amount of dressing to a sponge or applicator pad.

3. Spread the dressing onto the surface in a thin, even layer.
4. Buff off any excess with a clean microfiber towel.
5. Allow 5 - 10 minutes for the dressing to cure.
Tire Shine:
1. For a super wet looking finish, spray Tire Shine directly on to the tire sidewall or trim piece.
2. We suggest "leveling out" or distributing the dressing with a foam applicator or sponge. This will help with any potential pooling in the nooks of the tire pattern.
3. For a more subtle, less shiny finish spray Tire Shine on to a foam applicator first, then apply to the tire or trim surface.

4. Allow 5-10 minutes for dressing to dry & set. This will help avoid the Tire Shine from slinging onto the sides of your vehicle.
We hope this helps you choose a suitable tyre dressing. As always if you have any questions about our range, send us an email at: info@jaylenosgarage.com.au
Regards
JLG Australia Team
---