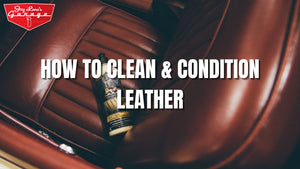 How Do You Clean & Condition Leather Car Seats and Interiors?
What is the best way to clean and condition leather car seats and interior? 
In this blog we'll show you everything you need to do to safely fight the toughest dirt & grime, plus condition & guard from the harmful effects of the sun.
Leather Cleaning:
Properly treated leather should have a soft, supple, satin finish. Unless it's patent, leather shouldn't be shiny or slick. Build up from body oils, dirt & other types of grime tend to give leather a glossy appearance.
Our Leather Cleaner gently lifts these embedded contaminants from deep within the pores of the material yet still retains the natural durability of the leather.
How to use Leather Cleaner:
Always test an inconspicuous area before use to ensure colorfastness.

1. For light-duty cleaning, spray Leather Cleaner onto a clean microfiber towel.
2. Gently scrub area to be cleaned.
3. Wipe away residue with a clean microfiber towel.
4. For stubborn stains, spray Leather Cleaner directly onto desired surface. Repeat steps 2 & 3.
Leather Conditioning:
There's few things more enjoyable than the look, feel, and most importantly, smell of brand new leather. The best way to preserve that luxurious leather experience is with proper care & maintenance. Without it your leather interior can quickly begin to fade, degrade and even crack.
Our Leather Conditioner is great for use on most common OEM leather surfaces. Avoid applying to Alcantara as well as open-cell, aniline leathers like raw cow hide. 
Once you have cleaned the leather, you can now restore & nourish your leather's natural look & feel with our premium conditioner. It finishes with a natural look & feel and won't change the texture or colour. 
How to use Leather Conditioner:
Always test an inconspicuous area before use to ensure colorfastness.

1. Apply to a freshly cleaned leather surface.
2. Apply a small amount of conditioner to an applicator pad. Massage into the leather surface.
3. Spread in a thin, even layer. Allow a few minutes for conditioner to penetrate.
4. Buff away any excess with a clean microfibre towel.
We have had incredible feedback on both our Leather Cleaner and Leather Conditioner since we launched them.
So we have put together a convenient and money-saving package, our Leather Care Kit.
If you have any other questions about leather care or our other products, please drop us a line at info@jaylenosgarage.com.au
---