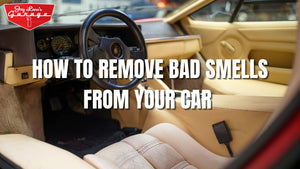 How To Remove Bad Smells From Your Car
What is the best air freshener to use for your car, truck or home?
Did you leave your gym bag in the car overnight? Maybe the kids spilled a mystery liquid and you're not quite sure where the smell is coming from.
Regardless of where these bad smells are coming from, don't let them dampen the mood.
Let us show you the best and easiest way to remove bad smells from your car.
With a couple of sprays of our Odour Eliminator, those foul smells will be a thing of the past. It's fast-acting enzymes work to clean the bacteria from the air, fabrics and other common areas.
Odour Eliminator couldn't be easier to use! 
Directions for Use:
1. Mist the air, or spray fabric seats, cloth car mats, in the boot or anywhere foul odours are present. 

2. Repeat as necessary
 If you notice that the smell is still there after a few days, the problem might be cause by stained carpet or mould in your vehicle which needs to be treated correctly.
For directions on how to clean your carpet, cloth car seats, or floor mats, check out our blog on 'Cleaning Fabric Seats & Interior'.
As always, if you have any questions about vehicle care or any of our products, contact us here. 
Regards
JLG Australia 
---