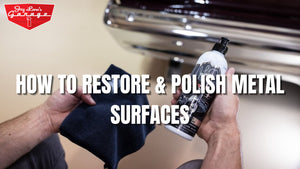 How To: Restore & Polish Metal Surfaces
Do you need to restore and polish your chrome bumpers, wheels, metal surfaces and other brightwork?
Are you looking for the best way to restore and polish metals like brass, copper, aluminium, chrome, stainless, silver & gold? 
In this blog, we'll show you how easy it is to restore and polish these metal surfaces and make them look like new again. 
The product we'll be using is our All-Metal Polish which is an advanced, non-abrasive formula that is safe to use on all metal surfaces and gets rave reviews from our customers.
Prior to using the metal polish, we recommend that you clean the metal surface to remove any excess dirt or grime with a good All-Purpose Cleaner.
We also recommend to avoid using it on hot surfaces or in direct sunlight, best to do this in shade or in a garage.
What products to use:
Metal Polishing product
Terry Towels or Microfibre towels
Follow these steps:
1. Shake the bottle well and apply a small amount of metal polish onto a towel or cloth.
2. Dab it onto the metal and let it sit on the surface for 30-60 seconds.
3. Then, work the metal polish on to the surface using circular motions. The towel will turn black as its removing any oxidation.
Note:
For heavier oxidation, apply with a terry towel.
For softer metals, use a soft microfibre towel.
4.  Using a second, preferably clean microfibre towel, buff the product completely off the surface.
5. Repeat the above steps if needed. 
We hope this has helped you polish your chrome bumpers, wheels or other metal surfaces and made them look like new again. 
As always, if you have any questions about our product range, send us a message via our contact page here. 
Regards
Jay Leno's Garage Australia Team
---
2 comments