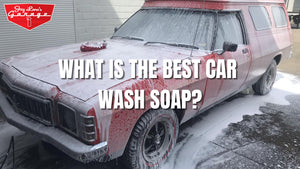 What Is The Best Car Wash Soap To Use?
What is the best wash soap to use for cleaning your car, motorcycle, truck or boat?
Believe it or not, car wash soaps can vary big-time. Take a second and think about how many soaps you have in your shower alone. You might have a shampoo, conditioner, body soap, face wash, or even a bar of soap. That's 5 different soaps before you even put your clothes on in the morning! 
Different wash soaps serve different purposes. Some help you scrub baked-on grease out of your pots & pans, others keep your whites looking their whitest. But you wouldn't put laundry detergent in your dishwasher.
The same goes for car wash soaps. Gone are the days of using dishwashing detergent to clean your beautiful car. Dish soap is aggressive. It's formulated to break-down and strip any & all oil or food particles. That's great for when you want a squeaky clean dinner plate, but that's not always the best for cleaning your car, motorbike, truck or boat. 
The trouble is that any wax or sealant you've applied to your vehicle contains different forms of conditioning oils that help them adhere to your car's paint. When you use an aggressive soap like dishwashing detergent, it strips all of that wax or sealant coating away leaving your paint bare and susceptible to the harmful rays of the sun. While not immediately damaging, it can cause premature paint fading over the lifetime of your vehicle. With that being the case, you can see why it's important to use a car wash soap that is formulated specifically for washing your car. 
Generally, there are three categories of car wash soaps you should be considering based on what you're trying to achieve. Regardless of the task at hand, you'll want to look for these 4 things from whatever car wash soap you choose: 
Lubricity:
How slippery the soap is. The slipperier the better!
Amount of suds/foam: Foam is your friend! This will encapsulate & lift dirt away from the painted surface.
PH Balanced:
Helps soap rinse away clean without leaving behind any acidic residue.
Biodegradable:
Makes sure the soap plays well with the environment once it goes down the drain.
Below are the 3 categories of the best car wash soaps to use based on the task at hand: 
General-use shampoo

 

– great for your weekly/monthly maintenance washes. Our

 

Vehicle Wash

 

is an excellent general-use shampoo. It won't strip away any previous wax and/or sealant applications.
Wash & wax shampoo

 

– This shampoo is great when you want to top-off your wax protection, but don't want to break out the full Karate Kid process. It's a convenient way to wash & protect in one step. Our

 

Wash+Wax

 

shampoo is the perfect option.
Strip shampoo

 

– At certain times, you do want to strip everything from your car's paint. You might need to compound or polish away scratches/imperfections, or maybe you want to apply a brand new coat of wax. Either way, it's still important to use a soap that is formulated specifically for use on painted surfaces. JLG's

 

Clean Strip

 

is ideal for use in this situation. 
See? You thought car wash soap was the easy part! All in all, it's not overly complicated. But it's certainly worth some consideration the next time you're shopping for the best car wash soap to use.
---