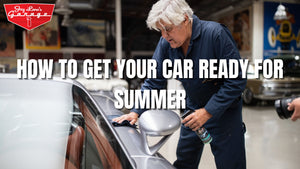 How To Get You Car Ready For Summer
As we know, our summer months here in Australia get extremely hot, this can have devastating effects on your vehicles paint and other areas if its not protected. 
We've put together some basic tips that will help to prevent sun damage and will also make sure your car is looking great.
Wheels & Tyres:
Before you wash the paint, make sure you clean your wheels and tyres first to prevent any brake dust or dirt getting on your clean paint. 
Also make sure your brakes are cool to touch and not warm/hot after a drive.
First, give each wheel and tyre a rinse using a hose or pressure washer. One wheel at a time, apply a good wheel cleaner onto the rim, let it sit for 1-2 mins, then give it a good scrub with a brush and hose off. Repeat this process for each wheel.
Once you have done this, apply a good All-Purpose Cleaner to the tyres. Let it sit for 1-2 mins, then scrub with a brush and rise off. Repeat this on the other tyres.
Once you have finished cleaning the whole car, its time to apply a tyre dressing to make the car really look great. If you want a wet/glossy look, use a product like our Tire Shine, or if you want a more matte/factory look, use something like our Tire & Time Care.
Washing Your Vehicle:
Its important to keep your vehicle clean by washing it often, this will help protect your paint from future dirt and grime. 
When washing, never do it in direct sunlight and only in a cool shaded area if possible. Use a good quality wash soap and a soft wash mitt to clean the paint. Once the vehicle is clean, remove the water with either a drying towel or air blower. 
Or if you car only has light dust or grim and doesn't require a full hose and bucket wash, you could use a waterless wash. They are getting more popular these days, especially with people who live in high rises or apartment blocks who can simply wash in their car in the parking space.
Protecting Your Paint:
Now that your vehicle is clean, its time to protect your paint. apply wax your paint. It will protect your paint from the suns UV rays and from any pollutants.
Again, make sure you do this in a shaded area or in your garage. If you do this in the direct sun, it will dry the wax fast and will make it hard to polish correctly.
Waxing your car doesn't have to be a long and boring process like Mr Miyagi showed us. You want to use a wax that goes on easy, hazes quickly, and the best of all – it wipes off even easier!
If you have been applying numerous coats of wax to your paint over the years, it might be time to strip it all off, so you can start with a fresh coat of paint.
You can do this by washing your vehicle with our Clean Strip. This is a powerful wash detergent designed to remove any old, prior waxes. Perfect for prepping paint for correction and polishing, or a new wax application.
Interior
We all know what getting into a hot car is like in summer, its even worse if it has a funky smell or the seats and floor are dirty.
One way to remove any bad smells is using a good odor remover. Simply spray it directly onto the seats or floor, sometimes more for better results. 
Cleaning your seats doesn't have to be a tedious process, its worth cleaning them often to increase their longevity. 
If you have leather seats, you can use a leather cleaner and conditioner to bring them back to life.
Or if you have fabric seats, its very easy to remove stains and give them a decent clean using a dedicated fabric cleaner. 
Also make sure you give the areas a clean around your radio, dials, door trims etc with an interior cleaner. Use a vacuum to remove any excess dirt or other loose items first.
Restoring faded plastic or rubber trim
Most cars and motorbikes these days have plastic or rubber trim on various parts and the sun dries these out over time.
A good trim restorer will seal and bring your trim back to life and help to prevent future fading.
We hope these tips help you look after your car during summer. As always, if you have any questions, drop us a line at info@jaylenosgarage.com.au and we'll be glad to assist.
---