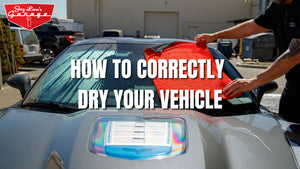 What Is The Best Way To Dry Your Vehicle?
What is the best way to dry your car, motorcycle or truck?
After washing your car, SUV, truck, motorcycle or boat, it's rewarding to see it nice and clean once finished. 
But isn't it annoying after all of your hard work to see those pesky water droplets running down your clean paint from under your side mirrors, guards etc. 
If you aren't drying your vehicle correctly water spots will appear and over time they will become harder and harder to remove. 
In this blog, we are going to show you some options and basic tips that only take a few minutes, but will provide you with great results each time you dry your car, SUV, truck, motorcycle or boat.
What products are best to use?
What things should you avoid using?
The sun
Basic Microfibre towels: Can scratch and create swirls in your paint
Old chamois: If they are not clean, dirt can be trapped in the material that will scratch your paint. 
Rags or t-shirts
Prior to washing your car, we recommend having your drying towels and other products ready so you can begin drying your car right after rinsing the wash soaps or foam off off the surface. 
Make sure the towels are clean and don't have any dirt embedded in them, if you need to wash them read our blog about this here. 
Different Ways Dry Your Vehicle:
Microfibre Drying Towel:
Once you use a Microfibre Drying Towel for the first time, you will never use your old brown chamois ever again! 
Drying Towels are designed to easily remove the water from your vehicles surface in minutes, but more importantly to prevent any scratches or swirls in your paint. 
Once your car, motorcycle, SUV, truck or boat has been washed, you just simply drag the drying towel across the surface to remove any water. 
You'll notice that on the first pass it might not pick up much water, this is because the towel is dry. But once its get a little bit of water on it, it will work perfectly. 
Drying Aid:
What is a Drying Aid you might ask? A Drying Aid is a product that you spray onto the wet surface of your vehicle to assist with the towel drying process and leaves behind a protective layer of sealant. 
To learn more about Drying Aids and how to use them, check out our blog here. 
Air & Leaf Blowers:
Using air compressor or a leaf blower to help drying your vehicle is a great idea as helps to remove those pesky water spots that appear once your vehicle has been dried, especially from your side mirrors, wheels, and grills etc. 
When we dry a car, we always finish off by going around the vehicle with a leaf blower to remove any left over water, it's just a basic leaf blower that you can get from your local hardware store. 
We hope this blog has provided some insight and helpful tips about drying your vehicle the next time you wash it. 
As always, if you have any questions, please send us an email at info@jaylenosgarage.com.au 
---
1 comment